A lot of people that are new or unfamiliar to the world of being vegan often assume that all your meals must be planned in advance and/or prepared over a hot stove for hours at a time. Or that you can never hop in the car with a group of friends and just go to the first place you find. That is simply not true at all. While it is true that you must do a little leg work before you set off to a random restaurant, you would be surprised at how many places offer vegan options.


PB&J, Always quick and always tasty!
Even some of the places that don't have a "vegan" menu, usually will have some items that I like to call accidentally vegan. Which are just items that are regularly offered that do not contain meat, dairy, eggs.. i.e. vegan. Peanut butter and jelly, fruit cups, potatoes, chips and salsa, salads. I could go on, but you get the point. Now sometimes you may need to check with different breads and methods of cooking, but that is a simple question to ask of your server. Most places will be happy to accommodate your special requests, as long as it's within realistic bounds. They are used to accommodating individuals with various allergies and will usually let you know what can and can't be done. Walking into a steak house and demanding that your veggie side plate is steamed and segregated from all non-vegan contaminates is unrealistic and disrespectful of the establishment. Show the restaurant and its employees some respect and they will do the same.
A nice tip would be to research most of your local restaurants online in your free time. If their menus are not clear, email or call the company and ask. I have done this with a few places in town already and have found out some "secret" or unlisted menu items I can ask for. Every place I have emailed or called has been very nice and courteous with my questions and comments. I've even started a conversation with the owner of a local burger chain, W.W. Cousins about offering some items for vegans and/or vegetarians. They are taking my requests into consideration, so I'll keep everyone apprised on that front. If you happen to stop by there, maybe make a request to have a veggie burger..even my meat eater friends could do so..to help us out. :-)
Research throughly and frequently though. There are a few websites out there that have done a lot of the research so you don't have to. Some of them have not been updated in a while though, so make sure the info is up to date. I will link to them at the end of this blog. If you familiarize yourself with your local options, it will make life so much easier. That way if a group of coworkers or friends invite you out to lunch, you will be prepared. If they suggest a place where there simply are no options, you can politely decline or possibly suggest an alternative restaurant. Try not to be an ass about it though. If they have their heart set on a place, just meet up with them next time. Another thing you may want to try and avoid is going to the restaurant anyways and not eating. This is not good for anyone. Everyone will feel guilty and awkward because you aren't eating and you will just sit around being hungry, possibly getting upset. Another way is that you could stop in with them and socialize until they are ready to order and just excuse yourself when it's appropriate, Just be sure to let them know your plan ahead of time so as to not surprise anyone by leaving.
Qdoba Naked Veggie
Around Louisville, I have a few of my "go to" joints that I frequent while I'm on the go. Number one on this list is Taco Bell. Wha? Yep, Taco Bell is an awesome accidentally vegan fast food restaurant. Just skip the cheese, meat and sour cream and you will do fine. My usual is a bean burrito with no cheese...fresco style sometimes. I've tried it with beans and potatoes too. Other times I get a 7 minus 2 layer burrito. No cheese, sour cream. You can sub beans for meat on anything too. It's a great place to go if you are in a hurry, not to mention it's cheap! If I have a little more time, I can usually be found at Qdoba or Moe's. Both of these places have awesome choices for vegans. Another accidentally vegan location is Fazoli's. I get fettucini noodles with marinara, add broccoli and tomatoes...mushrooms on occasion. Remember to order your breadsticks "dry" though. Speaking of breadsticks, how about some Crazy Bread? Yep that is vegan too, order it without the parmesan cheese though. The garlic butter is fine, psst...they use a soy based butter...like a lot of places..totally vegan. While you're there grab a pizza. Load it with veggies and skip the cheese. There are dozens of asian places to choose, they will always have something available for you. Make sure they don't use fish sauce though, they will put that on their veggie dishes a lot. Sub shops are another option for those on the go. Load them with veggies, skip the mayo, and as with most places, check with the bread before you go to make sure no milk or eggs were used.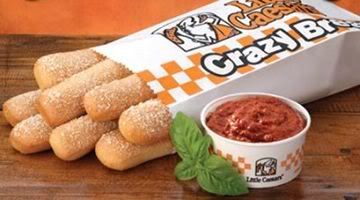 They should call it crack bread...I love this stuff!!
Now, these places are not the healthiest of choices, but they will do in a pinch situation. What I am showing you here is that there are plenty of options for vegans to eat on the go, cheap and with out too much difficulty. I'm into my fifth month of being a vegan and I have not run across any place I can't eat at yet. I just use the few simple tips I shared and I can leave in a moments notice if I want. Here are just a few places that you can safely eat vegan around town, these are mostly east end because that's where I live and work:
Taco Bell | Qdoba | Moe's | Subway | Lenny's Sub Shop | McAlister's | Whole Foods | Fazoli's
Little Caesars | Soupy's | Red Robin | Vietnam Kitchen | Yang Kee Noodle | Panera Bread
BD's Mongolian Grill | Firehouse Subs | BBC | Homerun Burgers
Here are a few links to help with researching where to go:
http://www.veganeatingout.com/
http://aveganlife.blogspot.com/2006/03/vegan-fast-food-options.html
http://www.happycow.net/
http://www.vegdining.com/
http://www.vegguide.org/
http://www.peta.org/living/vegetarian-living/chain-restaurants.aspx
Happy and Compassionate Eating!!!